Beauty & Self
Books & Music
Career
Computers
Education
Family
Food & Wine
Health & Fitness
Hobbies & Crafts
Home & Garden
Money
News & Politics
Relationships
Religion & Spirituality
Sports
Travel & Culture
TV & Movies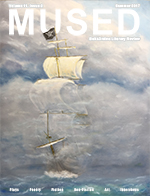 Our time on this Earth is fleeting and precious. We often know that in a vague, intellectual sense, and yet we can find ourselves whittling away those finite minutes without mindful thought. We should celebrate the beauty in a child's smile. The radiant sound of saying "I love you" to that special person. The warm touch of a hand. The delicate scent of a wildflower.

Enjoy the Mused Summer Solstice 2017 Issue



War for the Planet of the Apes Movie Review
Action Movies - Dianne Walker, Editor

Once hoping for a peaceful existence, Caesar now seeks to avenge the brutal murder of his wife and son. The Colonel will stop at nothing to preserve mankind. Who will win this final battle? Will it be man or ape?




Valentina Tereshkova - the First Spacewoman
Astronomy - Mona Evans, Editor

Three days orbiting Earth strapped into a space capsule so primitive that no one could land in it. So how did the cosmonaut get home? That's part of the story of the first woman in space, on a solo flight twenty years before NASA sent Sally Ride into orbit on a Space Shuttle.




Carpathian and Other Walnut Varieties
Landscaping - Connie Krochmal, Editor

The Carpathian English walnut is highly recommended as well as the Ambassador and a few others. Here are details on these varieties.




Should Collecting Outrank Investing?
Coin Collecting - Gary Eggleston, Editor

This is always an ongoing debate among coin collectors. Should you be a collector or a rare coin investor? A recently auctioned Proof-63 1804 silver dollar realized a disappointing $3.5 million. This could be a classic example of why some collectors say you should be a collector rather than an inves




Extras In Stamp Covers
Stamps - Gary Eggleston, Editor

Many philatelists collect stamps exclusively. Other collectors are only interested in covers, which are envelopes, postal stationary or similar items that have been postmarked or traveled through the mail.




INTERVIEW 2 Elijah David
SF/Fantasy Books - Evelyn Rainey, Editor

Second of Two interviews with Fantasy Author Elijah David of the Albion Academy Quartet


| Google+ |
E D I T O R R E C O M M E N D E D
Ultra Luster Waterless Car Wash


Ultra Luster Waterless Car Wash: Article Coming in Spring but you can buy it now! Waterless Car Washing just got easier and the results just got better! Get yours now at: UltraLuster Wash, Phone: 877-677-4463, Email: sales@ultralusterwash.com, distributors@ultralusterwash.com shipping@ultralusterwash.com customerservice@ultralusterwash.com
Low Carb - First Two Weeks


Get instant access to step by step instructions, handy tips to get you through the rough spots, background information on low carb dieting, and more.
Best Organic Body Scrub


Over 20+ healing minerals in dead sea salt make this an excellent natural exfoliator and skin polisher. 100% pure dead sea salt is grounded FINE providing gentle but highly effective exfoliation.