Beauty & Self
Books & Music
Career
Computers
Education
Family
Food & Wine
Health & Fitness
Hobbies & Crafts
Home & Garden
Money
News & Politics
Relationships
Religion & Spirituality
Sports
Travel & Culture
TV & Movies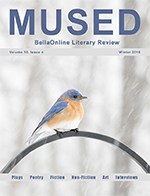 Sometimes it seems as if winter quotes make winter out to be a necessary evil which exists only for us to appreciate the subsequent warmth. Shelley: "If winter comes, can spring be far behind?" Shakespeare: "Now is the winter of our discontent made glorious summer by this sun of York." Hugo: "Laughter is the sun that drives winter from the human face."

But winter is far more than a down against which to compare the subsequent ups. Winter is a powerful, magical time. It is a season of strength. Of looking inward and finding focus. Bob Seger stated, "I write probably 80 percent of my stuff over the winter." Terri Guillemets reminds us, "The color of springtime is in the flowers; the color of winter is in the imagination." The Winter Solstice is a time to embrace the mysterious. The endless possibilities. The sense that we already have, within ourselves, boundless creativity and opportunity. We simply have to still ourselves and listen.

Winter is a powerful season. It gives us that space to look back and learn from our history. To look forward and envision what we wish to become. To be fully mindful of the present and be aware how each day has potential for us to speak out and impact the way our world proceeds. To move us toward peace, fulfillment, and an appreciation of what each of us has to offer.

Happy Winter Solstice.

Enjoy the Mused Winter Solstice 2016 Issue



You Inherited A Stamp Collection, Now What?
Stamps - Gary Eggleston, Editor

Here is an all too typical situation, you have just inherited a stamp collection, about which you know nothing nor even care too. Surprise, surprise, surprise…none of your grandchildren have even the slightest interest in stamps or the collection itself. So what do you do now? What are your options?




Mint Proof Sets Get Small Boost
Coin Collecting - Gary Eggleston, Editor

Some coin dealers have raised the bid price modestly for relatively recent proof sets. Of late, prices for U.S. Mint products have remained stagnant and often close to their wholesale levels. The retail buyers for these proof sets are usually inexperienced marginal collectors. Most of these collecto




Marie Antoinette Hees BK5 Edging 7
Tatting - Georgia Seitz, Editor

Marie Antoinette Hees Book 5 Edging 7 Just follows the shuttle core thread and you will reach the end of this repeat.




1967 - You Only Live Twice
Movie Mistakes - Isla Grey, Editor

It's up to 007 to discover the mastermind behind the disappearance of an American space craft. Try to find these movie mistakes in 1967's "You Only Live Twice".




Soulful Pot Roast Dinner Recipe
Quick Cooking - Karen Hancock, Editor

It's fun to serve "soul food" on Martin Luther King, Jr. Day, and this delicious dinner can be assembled in minimal hands-on time.




Sing, Sing, Sing
Geriatrics - Patricia Villani, MPA, PhD, Editor

We often think that we should have a great voice to sing, even when we are home by ourselves. Many of us don't realize the huge benefits of singing or we might consider signing up for lessons, joining a choir, or singing to our favorite CD today! Read all about it here.


| Google+ |
E D I T O R R E C O M M E N D E D
The Weiser Field Guide to Cryptozoology


The Weiser Field Guide to Cryptozoology by Deena West Budd includes information, interviews, and stories about forty different cryptids seen in various places all over the world by credible eyewitnesses like policemen, rangers, and doctors. Readers will learn where and how to find flying humanoids, hairy humanoids, giants of all kinds including rabbits, bats and spiders, goblins, and vampires.
Pinnacle Car Care


The Creme De La Creme of Ultimate Car Care is In the House! Using Pinnacle´s product line is like a visit to the salon and the results--magnifique!